Original title: 食堂かたつむり
(
Shokudou Katatsumuri
)
Translated from the Japanese by David Karashima
Fiction, Published in Japan in 2008
(English translation, 2011)
Alma Books, trade pb, 193 p.
Book blurb:


An extraordinary novel about food, love and the relationship between mother and daughter.

Returning home from work, Rinko is shocked to find that her flat is totally empty. Gone are her TV set, fridge and furniture, gone are all her kitchen tools, including the old Meiji mortar she has inherited from her grandmother and the Le Creuset casserole she has bought with her first salary. Gone, above all, is her Indian boyfriend, the maître d' of the restaurant next door to the one she works in. She has no choice but to go back to her native village and her mother, on which she turned her back ten years ago as a fifteen-year-old girl.

There she decides to open a very special restaurant, one that serves food for only one couple every day, according to their personal tastes and wishes. A concubine rediscovers her love for life, a girl is able to conquer the heart of her lover, a surly man is transformed into a lovable gentleman – all this happens at the The Snail, the magic restaurant whose delicate food can heal any heartache and help its customers find love again.
I'm currently reading this and quite enjoying it. In fact, reading it is making me hungry! The main character, Rinko, makes some wonderful-sounding dishes in this book, from Indian curry, to her grandmother's traditional homemade pickles, to rich tiramisu, to blowfish sashimi to... well you get the idea. I wish it were an actual restaurant that I could visit!
This book has also been compared to
Kitchen
by Banana Yoshimoto, and
Like Water for Chocolate
by Laura Esquivel. I haven't read the latter, but it's definitely a foodie book. So if you're interested in cooking, with a dash of Japanese food and culture, I think you just might like this book too. As such it's also a good book to mention for
Weekend Cooking
, a weekly blogging event hosted by
Beth Fish Reads
to share any cooking adventures or food-related posts.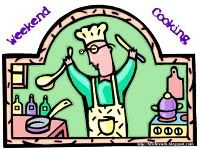 For more information, and to read an excerpt from
The Restaurant of Love Regained
, visit the
Alma Books website
.
Buy
The Restaurant of Love Regained
at:
BookDepository.com
|
BookDepository.co.uk
|
Amazon.co.uk
The small print: This book was received free of charge from the publisher for review purposes.
Links in this post to Amazon or The Book Depository contain my Associates or Affiliates ID respectively. Purchases made via these links earn me a very small commission. For more information please visit my About Page.
---