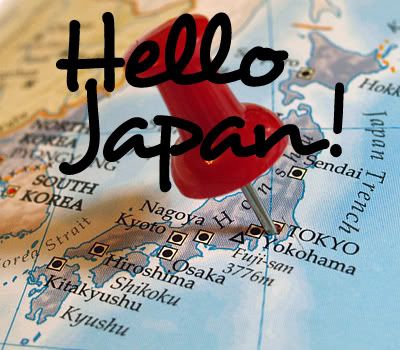 Thank you to everyone who took part in the
Hello Japan! mini-challenge
for July. The topic was
Non-Fiction
and the task was
to enjoy some non-fiction about Japan
. Read some of the contributions below and click on the links to visit the dedicated posts.
Uniflame at
Uniflame Creates
read
Fear and Trembling by Amélie Nothomb
, an autobiographical novel of her year spent working for a large Japanese company. Uniflame also watched the movie based on the book.
Teresa
read Jay Rubin's "Haruki Murakami and the Music of Words."
I thoroughly enjoyed this book. Rubin is an academic, but here he writes for a general audience in an engaging, easygoing style, in much the same way as the subject of this book does (which makes sense since Rubin is one of Murakami's translators).

Rubin takes us from the start of Murakami's writing career through his short-story collection, after the quake. As he ends this book, Rubin gives 'clues' as to what Murakami is working on, and the Murakami fan now knows that it's Kafka on the Shore.

For those who feel Murakami writes about 'nothing,' Rubin has some revelatory passages on 'meaning', though he allows that Murakami is mostly about the sound of words (thus the title, I suppose, and an allusion to the references to music in his work) and imagination. Murakami says his style first developed because he wanted to write but had nothing to say. I feel that may be true of his first novel, but is also somewhat disingenuous as his work seems to always at 'least' be about the individual trying to find his place in this world of chaos, a theme of many writers.

I especially enjoyed hearing of Murakami's writing process. The man seems constitutionally unable to not write. And I learned much about his 'place' in Japan. As with many of his works, he is a paradox -- both of, but (even more so) extremely different from his country.

It's best to read this if you've already read most of the works elaborated on here. Also, be sure to read Rubin's appendix on translation and re-translation -- it's quite interesting.
JoV at
Bibliojunkie
read
Underground: The Tokyo Gas Attack and the Japanese Psyche
by Haruki Murakami, and thinks it "is a must-read for anyone who wants to understand about the incident, about past crisis of Japanese modern history and for Murakami's fan[s]."
Gnoe of
Graasland
also shared some thoughts on
Underground
.
I really like the unsentimental, undramatic way Murakami relates the story through the mouths of the sarin gas attack survivors. The facts speak for themselves: what happened is impressive as it is so there's no need to emphasize. Letting several eyewitnesses have their say gives a kaleidoscopic view of the events. It also shows people remember things differently and the truth lies somewhere in between.

So. I can only say Murakami is doing a great job. The book is candid, humane and respectful to the people involved. I can't wait to read on and I'm especially curious about part 2 too, which involves members of the Aum Shinrikyo sect. I have faith M will be the same objective interviewer here.

Reading Underground is part of my plan for a small project on Graasland. The gas attack has left a great mark in Japanese society and several of my favourite 'artists' have used it in their work. Two parts of David Mitchell's debut novel Ghostwritten (1999) evolve around a terrorist planning an attack in the Tokyo underground. The last chapter is also called Underground. Film director Hirokazu Kore-eda made the film Distance (2001) in which family members meet at a lake where their loved ones, who were part of a cult modeled on Aum Shinrikyo, commited mass suicide after having sabotaged a city's water supply. And then Haruki Murakami tried to understand why such an act of terrorism could have happened through interviews in this work of nonfiction from 1997/1998. I guess all great artists are looking for the answer Why?.
I posted on a new non-fiction collection of essays about Japan coming out in September by long-time Japan resident, Donald Richie -
Viewed Sideways: Writings on Culture and Style in Contemporary Japan
. I also read
Pray for Japan
, and am in the middle of reading
The Book of Tea
by Okakura Kakuzo.
July's Prize was a copy of
Pray for Japan
, a book compiling tweets and messages of support from around the world after the devastating earthquake and tsunami this spring. Proceeds from the sale of the book go to help the Tohoku area affected by the disaster.
With the aid of random.org, the winner is ...
JoV
!
August's mini-challenge
is already up. I hope you've got your origami papers on hand, and are ready to start folding!
The small print: Links in this post to Amazon contain my Associates ID. Purchases made via these links earn me a very small commission. For more information please visit my About Page.
---