Thousand Cranes
by Yasunari Kawabata
千羽鶴
(senbazuru)
Originally serialized from 1949 - 1952
(English translation, 1958)
Translated from the Japanese by Edward G. Seidensticker
Vintage International, trade pb, 148 p.
With a restraint that barely conceals the ferocity of his characters' passions, one of Japan's great postwar novelists tells a luminous story of desire, regret, and the almost sensual nostalgia that binds the living to the dead.

When Kikuji is invited to a tea ceremony by a mistress of his dead father, he does not expect to become involved with her rival and successor, Mrs. Ota. Nor does he anticipate the depth of suffering that will arise from their liaison. But in the tea ceremony every gesture has a meaning. And in Thousand Cranes, even the most fleeting touch or casual utterance has the power to illuminate entire lives - sometimes in the same moment that it destroys them.

The novels by Kawabata, more than any of the other Japanese classics I've read, really make me regret the fact that I can't read in Japanese. His writing is just so sparse and poetic. Although the translation does a good job at trying to portray the artistry behind the words, it simply must be more beautiful and meaningful in the original Japanese. I've heard Kawabata's writing described as brush strokes, like writing haiku in traditional Japanese calligraphy, and I think that is a very apt description.
Kikuji, now alone after the death of both of his parents, becomes entangled with two of his father's mistresses. Both of which can't seem to let his father go. Chikako in her jealousy suggests that Mrs. Ota is a witch, and that Kikuji is held under her curse. Even Kikuji begins to wonder at the spell he seems to be under. It does seem to be true that none of them can escape the past. Although his father has died, "the sins of the father" live on and taint the life of his son. Not only Kikuji though, Mrs. Ota's daughter, Fumiko, also suffers greatly under the burden of her mother's affair.
A couple of my students study the tea ceremony, and last year I was thrilled to be invited to watch one of their lessons. It wasn't a formal event, just a casual lesson at their teacher's home, but it was a wonderful experience to see them perform the ceremony under their teacher's guidance. Thanks to that, I could really picture the scenes from the novel, from whisking the tea, to admiring the pottery.
In the book, the tea ceremony is a beautiful backdrop for the unpleasant drama that takes place between Kikuji and the women. Like the tea ceremony with its precise movements, in the story each gesture, and every word, have a certain weight, a certain meaning. And what isn't said can often be more important than what is.
Kawabata, through Kikuji, also ponders thoughts of life and death. The seeming permanence of the tea bowls versus the fleeting nature of human life. The precious bowls and other tea utensils have survived hundreds of years, treasured by each successive generation. Yet the people who used them will be soon forgotten.
The tea bowls, three or four hundred years old, were sound and healthy, and they called up no morbid thoughts. Life seemed to stretch taut over them, however, in a way that was almost sensual.
Ultimately this was a story of impossible love. It's certainly not a happy story, and there is no clear ending, only hints at what might be. I'm pretty sure I didn't understand all the nuances, or revelations, and it is the kind of book that deserves to be reread. Regardless, the mood of the story lingers on. I certainly look forward to reading more by Kawabata.
What did you think of Thousand Cranes?
Whether you've read it this month, or read it previously, please share your thoughts, or any questions you have about the book.
Thousand Cranes
is one of the novels cited by the Nobel Committee when Kawabata was awarded the Prize in 1968, "for his narrative mastery, which with great sensibility expresses the essence of the Japanese mind".
Nobel Prize in Literature website
Yasunari Kawabata (Wikipedia)
Thousand Cranes
at:
Amazon.com
|
BookDepository.co.uk
|
BookDepository.co.uk
Other thoughts:
Tony's Reading List
If you've reviewed
Thousand Cranes
, let me know and I'll link to it here.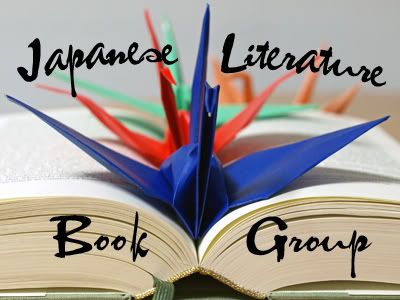 The
Japanese Literature Book Group
was started due to a desire to read and discuss Japanese literature with others, and by doing so to hopefully gain a deeper understanding of the literature and culture of Japan. The
schedule for the Japanese Literature Book Group for 2011
is largely made up of suggestions from fellow JLit devotees and we'd love to have you join us. Click on the button for more information about past and upcoming reads.
Our next selection will be
Kokoro by Natsume Sōseki
. With discussion to begin on September September 26, 2011.
こころ
(kokoro)
From the back cover of the new Penguin edition: No collection of Japanese literature is complete without Natsume Soseki's Kokoro, his most famous novel and the last he complete before his death. Published here in the first new translation in more than fifty years, Kokoro--meaning "heart"-is the story of a subtle and poignant friendship between two unnamed characters, a young man and an enigmatic elder whom he calls "Sensei". Haunted by tragic secrets that have cast a long shadow over his life, Sensei slowly opens up to his young disciple, confessing indiscretions from his own student days that have left him reeling with guilt, and revealing, in the seemingly unbridgeable chasm between his moral anguish and his student's struggle to understand it, the profound cultural shift from one generation to the next that characterized Japan in the early twentieth century.
The small print: I purchased this book for my personal library.
Links in this post to Amazon (including book covers) or The Book Depository contain my Associates or Affiliates ID respectively. Purchases made via these links earn me a very small commission. For more information please visit my About Page.
---