Book Blogger Appreciation Week
begins today, a week-long celebration of
everyone
who blogs about books. This year's theme is
Cultivating a Community of Bloggers and Readers
, and each day there is a
different topic to discuss
. Today we are focusing on the members that make up this great community.
I never really know what to say exactly for these kinds of posts since I love the wide variety of blogs out there, and all the wonderful people who work so hard on them. Book bloggers are some of the nicest people you'll find online and each and every one of you is a valued member of this community. Whether you blog about classics, or literature in translation, or non-fiction, or poetry, or YA, or audio books, or kidlit, or... you get the idea. Whether you blog every day, or once a month. Whether you're just starting out, or have been around for a while (cough). The thing that draws us all together is our shared love of books.
My world has definitely widened since I started blogging and it's all thanks to you. You've introduced me to books I probably would never have heard about otherwise. You've made me see things in a different way. You've taken me to places and worlds I've never been. You've made me laugh. You've made me cry. You've inspired me to become a better blogger (whatever that is!). You've encouraged me to keep going when I've doubted myself. You've always welcomed me back, even when I've disappeared for a while. Does it get any better than that?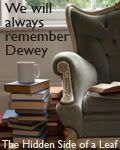 It's hard to try and select just a few favourite blogs to highlight when really, I just love you all (excuse the gushiness!) but I am going to single out just one special blogger though because she, more than anyone, I think deserves to be mentioned in a post about community. I'm of course talking about Dewey. While I didn't actually know her that well personally, she is like the original leader of the book blogger community. She did so much to bring bloggers together, and she created so many wonderful events, many of which, like the
24 Hour Read-a-thon
are still going strong today. Her
Weekly Geeks
, which recently ended after a long, successful run, was a huge inspiration for my own
Hello Japan! mini-challenge
, and she continues to inspire to this day. For her, community was everything. Sadly she is no longer with us, and many newer bloggers never had the chance to meet her, and probably have no idea who I'm talking about. But those of us who did know her, even a little, will never forget her. I think the community that exists now is thanks in part to her early vision, and I'm sure she'd be thrilled to see how much it has grown over the years.
Thank you, Dewey.
Thank you also to
Amy
for bringing the book blogging community together with
Book Blogger Appreciation Week
. Thank you to everyone helping out behind the scenes to bring us BBAW. And thanks again to
ALL
of you for continuing to share your love of books with us, and for being a part of this wonderful community!
---