I missed the deadline to sign up for the BBAW Interview Swap but when I mentioned this on Twitter over the weekend, Iris kindly offered to be my partner. So today I have the pleasure of sharing with you the chat we had during the last couple days. We've divided it into two halves: the first half is over at
Iris on Books
, the second half is here. So if you haven't yet read the first part, be sure to head over to read
Part One of our Interview
, then come back here for Part Two.

IRIS
: Having you ask me the question of the desert-island book, I feel I can retaliate with this: What is your all time favourite book? Is there a particular reason you feel this way? And is there a book that resonated with you most this year? (I feel my reasons for liking an all time favourite will change each year, just like yearly favourites will change as our circumstances chance). If by chance, all of these books are Japanese lit, is there a non-Japanese book you want to recommend?
NAT: I know, sorry. I always kind of hate it when people ask these kinds of questions. It's so hard to choose just one, and I agree that favourites can change over time. It's kind of funny though because for the one book for my emergency earthquake bag, I debated between Hard-boiled Wonderland, and Pride and Prejudice. So, Pride and Prejudice is definitely one of my all-time favourite stories too. It's kind of my comfort read. I know the story so well from having read, and watched the drama so many times. Of course, it probably doesn't hurt that whenever I reread it, I picture Colin Firth as Mr. Darcy. ;)
There are a couple of books that stand out as favourite reads so far this year, and actually neither of them are Japanese lit.
Beside the Sea
by Véronique Olmi, and
Caribou Island
by David Vann. They are both quite dark, sad stories but so beautifully written, that even months later I'm still thinking about them.
NAT: What are your most memorable reads this year?
IRIS
: The book I felt an instant emotional connection with this year was
Consequences
by E.M. Delafield. I have a review of it written up, but I am still a little hesitant to post it because it feels so personal. Besides
Consequences
, my favourite books this year include
The Pleasure Seekers
by Tishani Doshi and
Tender Morsels
by Margo Lanagan. I haven't written about the latter yet either, because it is one of those books every one seems to have strong reactions to - and I am a little afraid to become part of the discussion.
NAT: I love that you hosted
A Month of Dutch Literature
on your blog earlier this year, and I was sorry that I didn't get to participate this time. (I do hope you'll host it again sometime). For someone like me who sadly hasn't read much Dutch literature, are there any specific Dutch books or authors that you would recommend?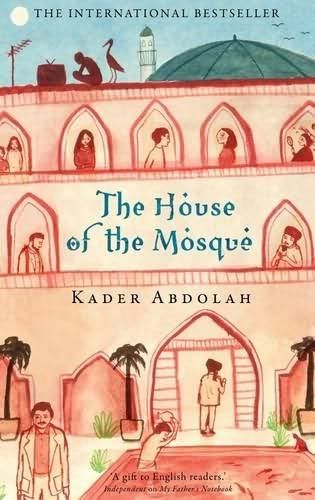 IRIS
: I am not at all an expert on Dutch Literature, which is in part why I decided to host the month, to "educate" myself in the literature of my own country. However, I do believe that as an international blogger, I can make a worthwhile contribution to a publishing landscape that often solely focuses on Anglo Saxon books. I cannot recommend just the one book, but I can give a short list of suggestions:
For those who love classics, two options:
Max Havelaar
by Multatuli for those who would like to engage with the Dutch colonial past and one of its first critics,
Eline Vere
by Louis Couperus for those who love Anna Karenina. For literary fiction lovers:
The Ten Thousand Things
by Maria Dermout (A NYRB Classic) and
Tomorrow Pamplona
by Jan van Mersbergen (published by Peirene). My personal favourite is
The House of the Mosque
, by Kader Abdolah.
NAT: I was hoping you'd give more than one! I've heard a lot about Tomorrow Pamplona, but I will definitely check out all the others. Thanks! I feel exactly the same way about Japanese literature. I'm in no way an expert, and there are other bloggers that are more well-read in Japanese lit than I am, but it's nice to share what I'm reading and discovering as I go along. And hopefully in the process, I can also introduce some Japanese literature to people who may not know much about it.
IRIS
: Now that we're on that topic, what do you think is a good book/author to introduce those unfamiliar with Japanese literature (that would be me!) to the genre?
NAT: One of my favourite JLit books is
The Makioka Sisters
by Junichiro Tanizaki and I would definitely recommend it to anyone who likes
Pride and Prejudice
. Although it's set in Japan just before WWII, it's a very Austenesque story of four sisters, and is a nice introduction to life in Japan at a time when some traditions were disappearing in the face of modernity.
For something more contemporary, I'd suggest
The Housekeeper and the Professor
by Yoko Ogawa. It's such a lovely story and showcases the quiet elegance of much of Japanese literature, but is still completely accessible.
And of course I can't not mention Haruki Murakami. His stories range from mildly to wildly surreal but there's something special about the way that he writes that makes the ordinary extraordinary, and utterly compelling. I think everyone should try at least one of his novels! ;)
NAT: Since you recently went to Disneyland Paris, I have to ask, who is your favourite Disney character?
IRIS
: I enjoy many of the movies made by Disney, but my favourite will always be Beauty and the Beast. It was the first movie that I saw in the theatre. I went there together with my cousin and my aunt. It felt so special. And I loved the movie. I distinctly remember feeling a little embarrassed about the need to cry. Since growing up, I have become more used to my emotional response to movies and try to accept that I often tear up. Another thing that adds to my love of this movie is that I had to wait an impossibly long time for it to be released on DVD - it only became available again last autumn.
Belle is my favourite princess (though I feel uncomfortable choosing a princess as a favourite character). Especially the first few scenes make me identify with Belle: The scene in which she sings and dances and reads, accompanied by sheep at the town fountain. I always danced as a girl, on the streets, at home, at the theatre - wherever I went basically. I also loved to cuddle up with a book. And Belle's awkwardness in the social interactions of the town - it is too hard to get into here, but let's just say I understand that part of Belle so well.
If I had to choose another character, I would saw Wall-E. I don't know, his interactions with Eve in the Pixar movie just make me melt inside.
NAT: I really think you need to come to Tokyo Disneyland someday! They love all things Disney here. Besides taking a few days off to go to Disneyland, what else do you like to do when you're not reading, blogging, or writing your thesis?
IRIS
: I'd love to visit Disneyland Tokyo - I am so ignorant, I didn't even know it existed. As to other hobbies, my boyfriend and I recently got a subscription to the local cinema. It meant we could go and sit back to relax for a few hours before returning to working on our theses. However, I do not consider myself much of a movie critic. Music is probably my biggest love outside of book blogging/reading. There are times that I can hardly keep up with all the new music that is released, but music will always have a special pace in my heart. In some ways, it touches me even more directly than reading does. Unfortunately, that also means that like reading, listening to music is about engagement - and it takes time. I cannot ignore a song I particularly like when it is played and so music is never just background music to me. But because it affects me it is a good way of letting go of stress when it is necessary. Especially when I go to see a concert, which I used to do very regularly. It has dwindled down a little, since I saw most of the bands I really wanted to see at least once already - but I still go to concerts every month or two months.
Nat: I had a membership to the local indie cinema when we lived in Cambridge and I loved watching all kinds of international films there. Sadly I don't go to the movies very often here in Japan.
IRIS
: Can you give us a sneak peak in your life besides blogging? What things do you love doing when you aren't reading? What would your typical day look like?
NAT: My life outside blogging is pretty ordinary. Some days I have a longer commute than others but generally a good part of my day is spent on trains going to lessons, and teaching. At home the chores always seem to take up far too much time. If only the laundry, dishes, and cooking and everything else, would do itself, I'd have plenty more time to blog and read! And the cats always demand their share of attention too.
Besides reading, both my husband and I like to take pictures, so on the weekends we often try to go out with our cameras to a park or a different area of Tokyo. Except in the summer when it's just too hot to go anywhere. I can't wait for autumn to finally arrive here so we can get out more regularly again.
Thanks for being a great interview partner, Iris, and for the opportunity to get to know you a little better!
Likewise Nat, it was fun to share an interview with you and get to know you better outside of our usual blogging and twitter exchange.
---
Well there you have it. If you've read all the way to the end, thank you. I hope you enjoyed our interview as much as we did.
The small print: Links in this post to Amazon or The Book Depository contain my Associates ID. Purchases made via these links earn me a very small commission. For more information please visit my About Page.
---