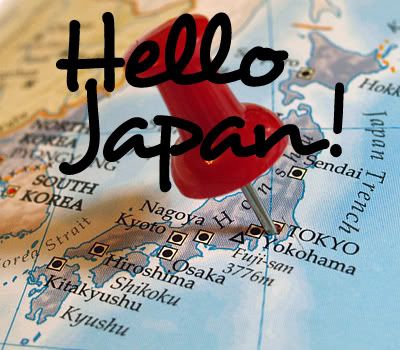 Hello Japan! is a monthly mini-challenge focusing on Japanese literature and culture. Each month there is a new task which relates to some aspect of life in Japan. Anyone is welcome to join in any time. Everyone who completes the task will then be included in the drawing for that month's prize. For more information, just click on the Hello Japan! button above.
September & October's Topic
At the end of last year when I asked you about which
Hello Japan!
topics had been your favourite so far, the one that most people mentioned was
Summer Double
, the one in which you were to compare two works of Japanese art, literature, culture or any other aspect of Japanese life or entertainment. And it was interesting to see what you chose to compare (
Summer Double Links
), from comparing two books by the same author, two movies, the movie based on a book, and so on. We can't help comparing the different things we enjoy, and comparing them is half the fun. So for the next two months, during September and October, we are going to revisit this same task.
September & October's Task
The task for September and October is
to compare two (or more if you so choose) works or other elements of Japanese literature, culture, or entertainment
. There are so many possibilities and combinations, but here are some suggestions to get you started.
*Two books or stories by the same author
*Two different books by contemporaries
*Two different books in the same genre
*Two movies by the same director or studio
*Two books or movies set in the same place
*Two works of art by the same artist
*Two artists from the same time period
*Two albums by the same band
*Two dishes with the same ingredient
*Two different Japanese restaurants or cookbooks
*A book or short story and the movie based on it.
*Manga and the anime or llive action movie.
*Japanese movie and the Hollywood remake
*A sake, or green tea tasting.
... and so on.
Plus I know you're all busy, so it doesn't have to be something new. You're also welcome to tell us about something you've done/watched/read/etc previously. The most important is just to compare two things that relate to Japan in some way.
September & October's Prize
This month's prize is
a Japanese literature book of your choice
(up to $15 value).
You can complete this month's mini-challenge by writing a blog post, telling us about what you did, and adding a link to your post, or by simply leaving a comment with your answer(s) on this post. If you prefer, you can also email me at inspringthedawn AT gmail DOT com with your submission. You are welcome to post or comment more than once and add the relevant links below. I love it when you are enthusiastic about a topic!
Once you have completed the task, don't forget to come back here to add your link to the Mr. Linky below. Please submit the link to the actual post, not just to your top page, and please only submit links to posts relating to the Hello Japan! task for this month. Any other links will be deleted. Please let me know if you have any questions.
The small print: Links in this post to Amazon contain my Associates ID. Purchases made via these links earn me a very small commission. For more information please visit my About Page.
---