Kokoro by Natsume Sōseki
Original title: こころ
(kokoro)
Translated from the Japanese by Meredith McKinney
Fiction, Published in Japan in 1914
(new English translation, 2010)
Penguin Classics, 234 p.
No collection of Japanese literature is complete without Natsume Soseki's Kokoro, his most famous novel and the last he completed before his death. Published here in the first new translation in more than fifty years, Kokoro--meaning "heart"-is the story of a subtle and poignant friendship between two unnamed characters, a young man and an enigmatic elder whom he calls "Sensei".

Haunted by tragic secrets that have cast a long shadow over his life, Sensei slowly opens up to his young disciple, confessing indiscretions from his own student days that have left him reeling with guilt, and revealing, in the seemingly unbridgeable chasm between his moral anguish and his student's struggle to understand it, the profound cultural shift from one generation to the next that characterized Japan in the early twentieth century.
The only Sōseki I've read so far is
I Am a Cat
, a satire, told from the perspective of a stray cat that hangs out in a school teacher's house observing the teacher and his friends, and ridiculing them throughout. I admit, I did think it was a little too long, and a little dry near the end, but there were quite a few humorous stories and overall it was an interesting, worthwhile read. (Discussion posts for
I Am a Cat
:
Volume One
,
Volume Two
,
Volume Three
).
Kokoro
is generally considered to be Sōseki's greatest work, and Sōseki himself is one of Japan's most famous novelists, certainly of the Meiji period, so I'm quite looking forward to finally reading this one for myself. The copy I have is the one pictured above, a new translation published by Penguin Classics. There are other older editions of the book in English but I really enjoyed Meredith McKinney's translation of
The Pillow Book
so that has me eager to read this new version.
Kokoro
is also the next selection for the
Japanese Literature Book Group
. It is on the schedule for September 26, however, I'll be very busy for the rest of this month so I hope you don't mind that I've pushed it back a couple weeks. Discussion will now begin on
October 15th
. The good news is that means you still have plenty of time to grab a copy and read along with us. Anyone is welcome so I do hope you'll join us! Click on the button below for more information on current and past group reads.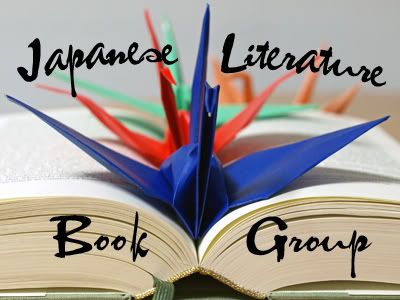 Buy
Kokoro
at:
Amazon.com
|
Amazon.co.uk
|
BookDepository.com
|
BookDepository.co.uk
The small print: I purchased this book for my personal library. Links in this post to Amazon or The Book Depository contain my Associates or Affiliates ID respectively. Purchases made via these links earn me a very small commission. For more information please visit my About Page.
---