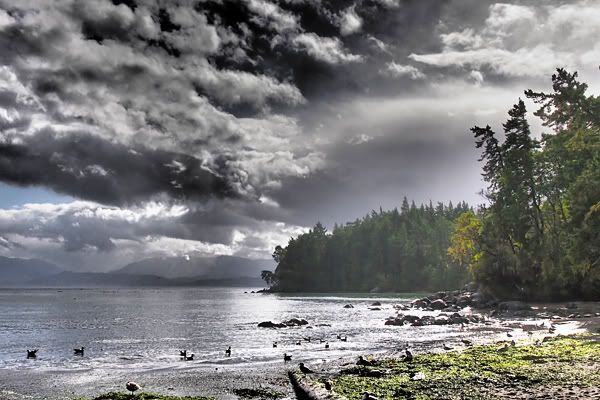 East Sooke Park, September 2011
So sorry for my long absence here. If you wondered where I disappeared to over the last while, a combination of illness and travel is what has kept me away from the blog for about a month. (I swear, where does the time go?) I was struck down by a nasty flu halfway through
Book Blogger Appreciation Week
(which made me sad that I couldn't participate fully), and then came my annual trip "home" to Victoria. I hadn't quite got over the flu by then and it decided to follow me to Canada where it turned into a lung infection. So fun! (Not really!) But even though I was a bit under the weather the whole time I was there, I still had a great time visiting with friends and family, some of which I hadn't seen for a few years! Now I'm back in Japan, mostly over the jetlag (and the lung infection), and getting back in the swing of things.
I really didn't do much reading at all while I was away. However, I did manage to bring a few books home with me. I'm impressed with my self-restraint though as I only bought one of them. Since we'll be moving soon, it seemed silly to buy books to just turn around and pack them into boxes for shipping in another month or so. But luckily I have an aunt and uncle who share my love of reading, and who just
had
to give me a couple. ;)
My Canadian book loot:
Lafcadio Hearn's Japan: An Anthology of His Writings on the Country and Its People, edited by Donald Richie
My uncle picked this one up for me because of the Japanese connection. I've read one of Hearn's books of Japanese folk tales so it will be interesting to read some of his other writings.
The Fox Inheritance by Mary E. Pearson
This was my
Armchair BEA
prize from earlier this year. As the publisher could only ship to the US or Canada, I had it sent there and it was waiting for me. I actually haven't read the first book in the series yet, but I have it and have heard good things about the author.
Annabel by Kathleen Winter
This is the one book that I bought myself. It seems to be a book people either love or ... not so much. So of course I'm curious to read it for myself. The reason I made a point to pick up a copy in Canada? Because I
really
don't like the US or UK covers.
The Canadian one is so much better!
(Yes, I can be a cover snob but click on the links - the title for the US one - to see for yourself and see if you don't agree with me).
The Winter Vault by Anne Michaels
I can't believe I still haven't read anything by Anne Michaels even though I'm pretty sure I've had her award-winning
Fugitive Pieces
in my stacks for a while now. Now that my aunt has given me her newer novel, I really must rectify that!
The Cat's Table by Michael Ondaatje
I've been hearing great things about Ondaatje's latest book so I'm thrilled my aunt picked this for me too. Now I only have to find the time to read it!
Have you received any new books lately? And do tell what I've missed in the book blogging world over the last month?
The small print: Links in this post to Amazon contain my Associates ID. Purchases made via these links earn me a very small commission. For more information please visit my About Page.
---