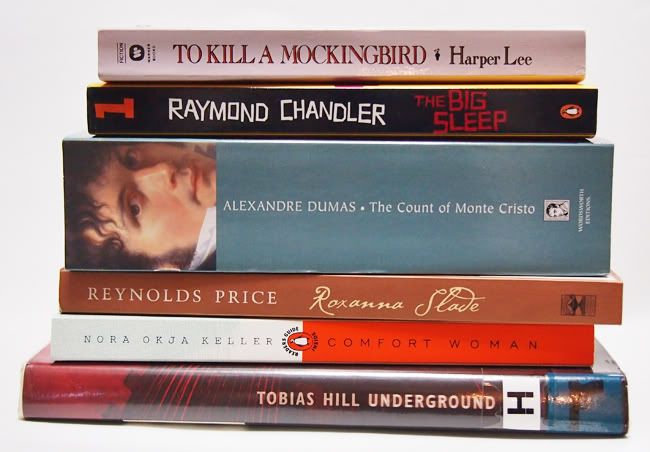 It's time for another
Literary Giveaway Blog Hop
! The one held in June was a big success so when Judith suggested a fall version, I knew I had to join in again. Since we'll be moving soon, I'm offering some books that have been in my giveaway box for a while. Better to send them to new homes than take them with me, right?
Some of these certainly need no explanation, but here is some information about each of the books. The blurbs are taken from the back of the books themselves. For more on the books, click the titles to read about them on Amazon*. And be sure to visit
Leeswammes' Blog
for all the information on the Hop.
To Kill a Mockingbird by Harper Lee
(I bought a 50th Anniversary hardback edition last year so no longer need my old paperback copy. Slightly faded but still in very good condition.)
The unforgettable novel of a childhood in a sleepy Southern town and the crisis of conscience that rocked it, To Kill a Mockingbird became both an instant bestseller and a critical success when it was first published in 1960. Compassionate, dramatic, and deeply moving, To Kill a Mockingbird takes readers to the roots of human behavior - to innocence and experience, kindness and cruelty, love and hatred, humor and pathos. Harper Lee always considered her book to be a simple love story. Today it is regarded as a masterpiece of American literature.
The Big Sleep by Raymond Chandler
(Read once, and has a wrinkle in the cover, but still in good condition.)
Los Angeles PI Philip Marlowe is working for the Sternwood family. Old man Sternwood, crippled and wheel-chair bound, is being given the squeeze by a blackmailer and he wants Marlowe to make the problem go away. But with Sternwood's two wild, devil-may-care daughters prowling LA's seedy backstreets, Marlowe's got his work cut out - and that's before he stumbles over the first corpse...
The Count of Monte Cristo by Alexandre Dumas
(Never read, I opted instead for the Penguin edition. Note: The print is quite small.)
The victim of a miscarriage of justice, Dantes is fired by a desire for retribution and empowered by a stroke of providence. In his campaign of vengence, he becomes an anonymous agent of fate. The sensational narrative of intrigue, betrayal, escape, and triumphant revenge moves at a cracking pace. Dumas' novel presents a powerful conflict between good and evil embodied in an epic saga of rich diversity that is complicated by the hero's ultimate discomfort with the hubristic implication of his own actions.
Roxanna Slade by Reynolds Price
(Bought used so it is a bit scuffed, and with some damage to the cover, but the pages are clean.)
Roxanna begins her story on her twentieth birthday - a day that introduces her to the harsh realities of adulthood and changes the course of her life forever. From this day on, Roxanna is quick to share with the reader the intimate details of ninety years of life in North Carolina. Her beguiling tale is one that boldly reflects the high and low moments in the development of the modern South and the nation as well as the inner strength of a woman possessed of a piercingly clear vision, forthright hungers and immense vitality.
Comfort Woman by Nora Okja Keller
(Read once, still like new.)
Comfort Woman is the story of Akiko, a Korean refugee of World War II, and Beccah, her daughter by an American missionary. The two women are living on the edge of society - and sanity - in Honolulu, haunted by Akiko's periodic encounters with the spirits of the dead, and by Beccah's struggles to reclaim her mother from her past. Slowly and painfully Akiko reveals her tragic story as a "comfort woman" to Japanese soldiers. As Beccah uncovers these truths, she discovers her own strength and the precious gifts her mother has given her.
Underground by Tobias Hill
(Withdrawn library copy, from the Cambridge Library, UK. Library binding, faded pages but still very readable.)
Among the rush-hour crowds and abandoned levels of the London Underground, someone is pushing women under trains. In his search for a killer, Casimir, a Tube worker, is led ever deeper into this city beneath the city. Below the bright crowds and tunnel musicians is a labyrinth of long-forgotten cross-passages, deep shelters and derelict Victorian stations. Hunting for the clues that will lead him to the killer, Casimir is also drawn back into his own past and the terrible secrets of his Polish childhood. In subterranean London, Casimir has gone to ground. But in his desperate search, he discovers a chance for forgiveness and the emergence of a new life.
Giveaway details
*The giveaway will close on
October 19, 2011
.
*Anyone can enter, the giveaway is open
internationally
. All you need is a mailing address anywhere in the world where you can accept packages.
*You do
not
need to be a follower or have a blog to enter.
*There will be
six winners
. You can enter to win 1, 2, 3, 4, 5, or all 6 books, but you can only win one. Please rank them in order of preference on the form.
*To enter the giveaway please complete this form:
(click on the link below and the form will open in a new window)
Note
: You must complete the form to be entered in the giveaway. Comments on this post do not qualify as entries. If you have any problems filling in the form, please let me know.
One of the features of this giveaway hop is that all the books being given away should be literary of some sort. So if you like well-written stories with a literary flair, be sure to check out all the other giveaways as well. See the full list of participants below.
Good luck! Now go enter to win some other great books!
*
The small print: Links in this post to Amazon contain my Associates ID. Purchases made via these links earn me a very small commission. For more information please visit my About Page.
---