Kokoro by Natsume Sōseki
Original title: こころ
(kokoro)
Translated from the Japanese by Meredith McKinney
Fiction, Published in Japan in 1914
(new English translation, 2010)
Penguin Classics, 234 p.
No collection of Japanese literature is complete without Natsume Soseki's Kokoro, his most famous novel and the last he completed before his death. Published here in the first new translation in more than fifty years, Kokoro--meaning "heart"-is the story of a subtle and poignant friendship between two unnamed characters, a young man and an enigmatic elder whom he calls "Sensei".

Haunted by tragic secrets that have cast a long shadow over his life, Sensei slowly opens up to his young disciple, confessing indiscretions from his own student days that have left him reeling with guilt, and revealing, in the seemingly unbridgeable chasm between his moral anguish and his student's struggle to understand it, the profound cultural shift from one generation to the next that characterized Japan in the early twentieth century.
First of all, my sincere apologies if you looked for this post last month. I think you must be tired of hearing me say that our life is rather hectic and unsettled at the moment, so I'll just say I'm sorry for the major delay and move on to a few thoughts on the book.
I've been a little disappointed in the Japanese literature classics I've read lately but
Kokoro
was a pleasant surprise and one of the more enjoyable Japanese classics I've read over the last year. Where I found
The Temple of the Golden Pavilion
to be very dreary, and painfully slow. And where
The Silent Cry
was also quite dense and failed to engage me, Kokoro was a completely readable, rather compelling human story.
The story focuses on the relationship between a young university student, and an older man he happens to meet one summer on holiday. He calls the older man "Sensei", meaning "teacher", and he comes to look up to Sensei although the older man lives a rather reclusive, unproductive life. Sensei insists repeatedly that he is not worthy of the young man's respect or growing attachment, although he refuses to elaborate on the reason why he feels that way.
The book is divided into three sections. In the first one, "Sensei and I", we are introduced to the two men. In the second section, "My Parents and I", the young narrator has graduated and returns to his country home as his father is very ill. While he contemplates his father's death, he receives a long letter from Sensei in which he finally explains the incident that took place in his own school days, and which has haunted him for the rest of his life. In essence, making him into the man he became. This letter, a kind of confession, makes up the final section of the book.
Even though we are kept at a certain remove from them throughout, I was interested in the characters and eager to learn more about them and their special friendship as the narrative progressed. Both of the characters live quite insular lives, and isolation is a clear theme running through the story, a common theme really in many works of Japanese literature, either classic or contemporary. Just look at the works of Haruki and Ryu Murakami respectively, to name just a couple of contemporary examples.
Sōseki, who died in 1916, and considered one of the most important writers of the Meiji era, was also quite critical of the encroaching Westernization in Japan, and the social implications of Japan's desire to emulate the West. This study of the difference in Western and Japanese culture is apparently present in most of his work, and it was obvious in
Kokoro
as well. The young man has difficulty understanding the traditional values and morality that Sensei adheres to, and their relationship represents the transition to Western values.
The only other novel by Natsume Sōseki that I've read so far is his famous
I Am a Cat
. While I found that
I Am a Cat
was a bit too long, and lost its focus as it went along, my main complaint about
Kokoro
would be that I thought it was too short. The story ends with an assumption of what has occurred but we are left to imagine for ourselves the consequences of this act. When I turned the last page, I was a little disappointed, wanting to know more. However, after having let the story sit for a while, I've come to think that it wouldn't have been as memorable if it insisted on wrapping things up. It wouldn't be very 'Japanese' either if it did! Like many Japanese novels without a clear, distinct ending, there is a kind of elegance in leaving off where it did. And I'm definitely looking forward to reading more by Sōseki.
A final, quick note on the translation: I really enjoyed Meredith McKinney's translation of
The Pillow Book of Sei Shōnagon
, and I think it was her smooth, readable translation that helped to make Kokoro such an enjoyable read. The translation of Sōseki's
I Am a Cat
(by a pair of different translators) is actually somewhat outdated, and awkward, so I hope Meredith McKinney will continue to refresh, or translate more Japanese literature classics in the future.
What did you think of Kokoro?
If you've read
Kokoro
, please share your thoughts or questions about the book. And if you've posted about it on your own blog, please let me know so I can link to it here.
Other thoughts
:
Experiments in Manga
Litera-tour
Kokoro
at:
Amazon.com
|
Amazon.co.uk
|
BookDepository.com
|
BookDepository.co.uk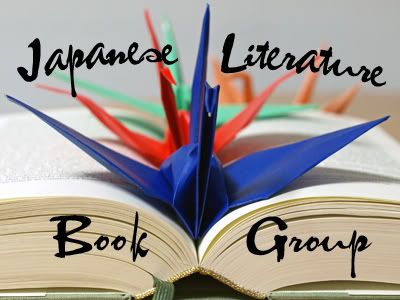 The
Japanese Literature Book Group
was started to enjoy reading and discussing Japanese literature with others, and by doing so to hopefully gain a deeper understanding of the literature and culture of Japan. The
schedule for the Japanese Literature Book Group for 2011
is largely made up of suggestions from fellow JLit devotees and we'd love to have you join us. Click on the button for more information about past and upcoming reads.
Our next selection will be
1Q84 by Haruki Murakami
with discussion to begin on
November 28, 2011
.
The year is 1984. Aomame sits in a taxi on the expressway in Tokyo.
Her work is not the kind which can be discussed in public but she is in a hurry to carry out an assignment and, with the traffic at a stand-still, the driver proposes a solution. She agrees, but as a result of her actions starts to feel increasingly detached from the real world. She has been on a top-secret mission, and her next job will lead her to encounter the apparently superhuman founder of a religious cult.

Meanwhile, Tengo is leading a nondescript life but wishes to become a writer. He inadvertently becomes involved in a strange affair surrounding a literary prize to which a mysterious seventeen-year-old girl has submitted her remarkable first novel. It seems to be based on her own experiences and moves readers in unusual ways. Can her story really be true?

Both Aomame and Tengo notice that the world has grown strange; both realise that they are indispensable to each other. While their stories influence one another, at times by accident and at times intentionally, the two come closer and closer to intertwining.
Happy reading!
The small print: I purchased this book for my personal library.
Links in this post to Amazon (including book cover) or The Book Depository contain my Associates or Affiliates ID respectively. Purchases made via these links earn me a very small commission. For more information please visit my About Page.
---