So like many people, I'm currently reading Haruki Murakami's latest book to appear in English translation,
1Q84
. After waiting about two and a half years since Book One and Two were published in Japan in May 2009 (and Book Three which followed in April 2010), at last all three Books were released in English translation late last month.
Murakami fans all over the world were impatiently waiting and there was some serious hype in the lead-up to the publication date. Quite impressive for a book in translation, there were some stores that even had midnight openings to cope with the demand! And it's very long story too at around 1000 pages between the three books.
Well, I'm kind of sad to admit that while I like it (I do like it!), I'm not loving it. So far anyway. I'm about half way through Book Three, and still have several chapters to go so anything is still possible. I got quite bogged down in Book Two, and it has picked up for me in Book Three but overall it just hasn't engaged me as much as some of his other stories. Like
The Wind-up Bird Chronicle
. Or
Kafka on the Shore
. Or
Hard-boiled Wonderland and the End of the World
. Or
A Wild Sheep Chase
. Those books each grabbed me and carried me along for an often bizarre, but very enjoyable ride. However, something is keeping me from fully getting lost in
1Q84
. I have to wonder, is it because of the Hype? With all the buzz and anticipation, were my expectations simply too high?
But I also wonder if it's my fault. There's a lot going on for us right now and perhaps I'm simply not in the right head space for such a long book, or for Murkami's style of storytelling. As you know, with books it is often all about the timing. Many people have already finished reading it, and loved it, so I already think I'll need to re-read it at some point once life has calmed down to see if it really was just me. Or bad timing.
I'll be talking about
1Q84
in more detail later this month and I'll let you know my final verdict once I've finished it. It's the last
Japanese Literature Book Group
selection for this year and the discussion will begin on November 28. So if you're reading it, or have read it, I hope you'll stop by and share what you think of it. And perhaps tell me what I am missing!
Has your enjoyment of a book ever been affected by hype, or life getting in the way?
---
Thank you to everyone who entered my
Literary Giveaway
for some books that needed new homes, held in conjunction with Leeswammes'
Literary Giveaway Blog Hop
last month. Announcing the winners is long overdue, my apologies for that. However, better late than never, I hope you agree. If you remember, these were the books on offer: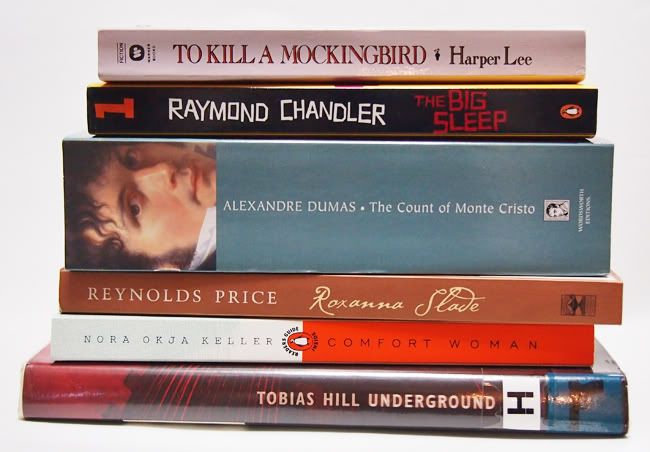 Each entry was numbered in the order received on the Google Form and with some help from random.org, this is how it played out. The following entrants were selected and will receive these books:
blackplume
gets
To Kill a Mockingbird
Sam
gets
Roxanna Slade
Marta
gets
The Big Sleep
sakura
gets
Comfort Woman
Jet
gets
Underground
miki
gets
The Count of Monte Cristo
Everyone received either their first or second choices. I love how that worked out!
And while we're talking about giveaways, a new one is up over at the
Haruki Murakami Reading Challenge
blog. Any participants of the challenge are welcome to enter so be sure to check it out.
Happy Sunday!
The small print: Links in this post to Amazon contain my Associates ID. Purchases made via these links earn me a very small commission. For more information please visit my About Page.
---