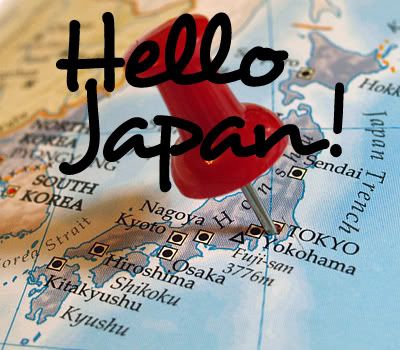 Thanks to everyone who took part in the last
Hello Japan! mini-challenge
for this year. November's task was
to share five Japanese favourites
. Click on the links to find out more about everyone's favourite books, TV shows and much more.
Novroz of
Polychrome Interest
shared her
all-time favourite Japanese TV series
.
Gary of
The Parrish Lantern
shared "five" of his favourite Japanese novels:
Kafka on the Shore, the first Haruki Murakami I read.
Strangers, Taichi Yamada & the third Japanese book I had read.
The Sea & Poison, Shusaku Endo, the book that sold me on Japanese Literature
In Praise of Shadows, this book by Jun'Ichiro Tanizaki explained to me ideas on Japanese Aesthetics
Underground, another Haruki murakami, but one that showed me, his humanity in a way far different from his fiction.
But he couldn't stop there and came back to share five more! Be sure to scroll down to the comments on the
Hello Japan! November mini-challenge
post to find out the rest.
Francisca shared her
Top 5 Albums that she discovered this year
.
1. Eternal Elysium - Spiritualized D (I got this CD frm my mother :D)
2. Boris - New Album (I have seen them live and enjoyed it!)
3. lloy - STRANGE IMMIGRANT HAUS (This album is from last year, but I got to listen it this year)
4. Church of Misery - The Second Coming (I have seen them live this year, very great live band)
5. Mono - Hymn to the Immortal Wind (Beautiful instrumental music!)
Litera of
Litera-Tour
couldn't decide on one category so she shared
5x5 Japanese favourites
! Including favourite J-dramas, favourite short stories, favourite anime series, favourite characters from Japanese mythology, and favourite books.
Gnoe of
Graasland
shared her
five favourite Hello Japan! topics
! Thank you so much for your kind words, Gnoe! I'm so glad you've enjoyed the Hello Japan! mini-challenge. :)
For sbk of
Pictures, Thoughts and Comments
, the Bodhisattva, Jizo, is one of her favourites so she shared
five places that she's photographed Jizo statues
.
And I cheated a little since I didn't stick strictly to five, but I shared some of
the things I will and won't miss about Japan
after we move next month.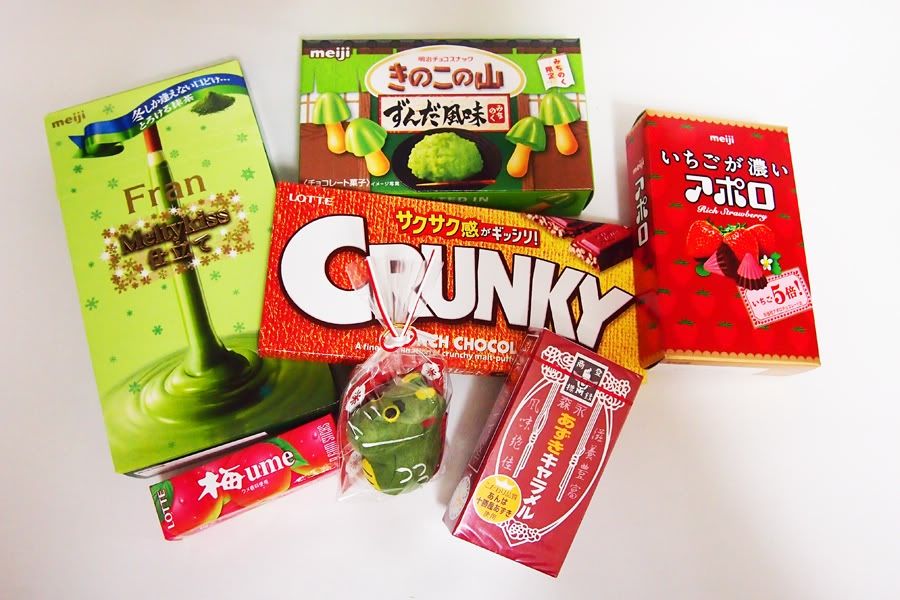 November's prize is
a selection of Japanese candy
.
- Fran MeltyKiss matcha green tea/white chocolate dipped sticks (like Pocky)
- きのこの山 (
kinoko no yama
): little cookies in the shape of mushrooms. Usually the caps are chocolate but for this special version they are
zunda
flavoured.
ずんだ (zunda)
is essentially a paste of crushed, sweetened green soybeans often served with
mochi
(rice cakes) and is a specialty of Sendai in the Tohoku region of Japan that was hard hit by the earthquake and tsunami in March.
- アポロ (Apollo) strawberry chocolates
- CRUNKY chocolate bar
- Azuki (sweet red bean) flavoured caramels
- 梅 (
ume
) plum flavoured chewing gum
And since 2012 is the Year of the Dragon, a little dragon figurine made out of paper. :)
And the winner is ...
Litera
! I sure hope you have a sweet tooth. ;)
Also, just a reminder that this was the last
Hello Japan! mini-challenge
, at least for a little while. Thanks again to everyone who has participated in the various Hello Japan! tasks over the last two years. (Click on the link, or the button at the top of this post, for links to all the past topics and tasks.) I have really enjoyed reading about your discoveries and adventures through literature, food, culture and everything in between. Hopefully once we're settled in and life calms down a bit, I can look at bringing it back in a modified format. Please let me know if you have any suggestions, or ideas, and in the meantime I hope you will continue to add a little touch of Japan to your lives.
---