1Q84 by Haruki Murakami
Original title:
1Q84 (ichi-kyu-hachi-yon)
Book One & Two originally published in Japan in 2009, Book Three in 2010. English translation released in October 2011.
Book One & Two translated from the Japanese by Jay Rubin; Book Three translated by Philip Gabriel
Longlisted for the 2011
Man Asian Literary Prize
The year is 1984. Aomame sits in a taxi on the expressway in Tokyo.
Her work is not the kind which can be discussed in public but she is in a hurry to carry out an assignment and, with the traffic at a stand-still, the driver proposes a solution. She agrees, but as a result of her actions starts to feel increasingly detached from the real world. She has been on a top-secret mission, and her next job will lead her to encounter the apparently superhuman founder of a religious cult.

Meanwhile, Tengo is leading a nondescript life but wishes to become a writer. He inadvertently becomes involved in a strange affair surrounding a literary prize to which a mysterious seventeen-year-old girl has submitted her remarkable first novel. It seems to be based on her own experiences and moves readers in unusual ways. Can her story really be true?

Both Aomame and Tengo notice that the world has grown strange; both realise that they are indispensable to each other. While their stories influence one another, at times by accident and at times intentionally, the two come closer and closer to intertwining.
After what seemed like a very long wait, the English translation of Haruki Murakami's latest novel was finally released at the end of October. I know many of you wouldn't want to wait long to read it, despite being a rather long book, so it easily filled the last slot on our
JLit Book Group schedule for this year
. If you have finished reading, please share your thoughts on the book below. And if you haven't quite finished, or are still waiting to read it, feel free to come back and discuss it with us once you have.
The discussion questions below are just a guide to start the conversation. If you have any other thoughts or questions about the book, don't hesitate to bring them up.
Warning
: For anyone who hasn't yet read the book, the
comments may contain spoilers
so please proceed at your own risk!
DISCUSSION QUESTIONS
What did you think of 1Q84?
His best one yet? Or disappointing?
There was a lot of buzz and hype leading up to the publication day. Do you think your reaction to the book was affected either positively, or negatively, by all the publicity?
How does 1Q84 compare to Murakami's other books?
How was it similar, or different, to his other books that you've read?
Do you have any favourite quotes, or scenes, to share?
Who was your favourite character?
Did you like the narrative alternating between Tengo and Aomame, and also including Ushikawa in Book Three? Did your feeling towards any of the characters change over the course of the novel?
When talking with Tengo about how well Air Chrysalis is selling, Komatsu says:
"But still, you couldn't call this a commercial novel. It's got no sex scenes, it's not a tearjerker. Not even I imagined it would sell so spectacularly." (p. 317)
Do you think a book must have sex and tears to be a best-seller?
On that note,
1Q84
did contain a fair amount of sex, and
Murakami has been nominated for the Bad Sex in Fiction Award
for
1Q84
.
Do you think the 'bad sex' nomination is justified?
What do you think the "Town of Cats represents?
(click on the link to read an excerpt)
Have you ever been to a 'Town of Cats'?
And who exactly are the 'Little People'?
Were you satisfied with how the story ended?
In Japan, Books One & Two were originally published in 2009. Book Three followed about a year later. Would you have been satisfied if the story had stopped with Book Two?
What did you think of the translation?
Especially as there were two translators. Book One & Two were translated by Jay Rubin, and Book Three by Philip Gabriel. Did you notice any difference between the two?
Well, I think that's enough to get us started. I'd really love to get a conversation going about the book so please do come and share your thoughts. And if you've posted about
1Q84
, let me know and I'll link to it here.
Other thoughts
:
Dolce Bellezza
Sam Still Reading -
Books One & Two
|
Book Three
And the plot thickens...
Book Dilettante
Tony's Reading List -
Book One
|
Book Two
Words and Peace
Experiments in Manga
1Q84
at:
Amazon.com
|
Amazon.co.uk
|
Amazon.ca
|
BookDepository.co.uk
|
BookDepository.com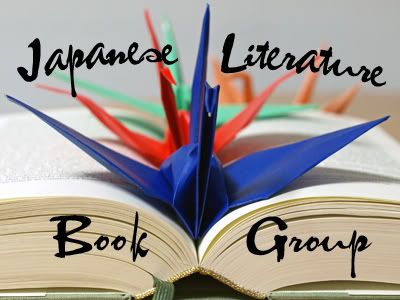 I started the
Japanese Literature Book Group
to read and discuss Japanese literature with others, and by doing so to hopefully gain a deeper understanding of the literature and culture of Japan. I enjoyed having a little push to read more Japanese lit, and have thoroughly enjoyed reading these contemporary and classic Japanese novels with you. Please click on the button for information on all our past reads. The
Japanese Literature Book Group
will be on hiatus for the next few months while we pack, move, and get settled in to our new home across the ocean, but I hope you'll join me in reading some more Japanese Lit come spring 2012.
The small print: I purchased this book for my personal library.
Links in this post to Amazon or The Book Depository contain my Associates or Affiliates ID respectively. Purchases made via these links earn me a very small commission. For more information please visit my About Page.
---