It may have looked very quiet here over the last couple of weeks, or so, but I've actually been busy having my own personal
Bloggiesta
to get
In Spring it is the Dawn
up and running again. As I mentioned before, I was quite happy with the previous design and layout, so for the most part, I've tried to recreate a similar look with the new template. However, it has also been a good chance to freshen things up just a little bit.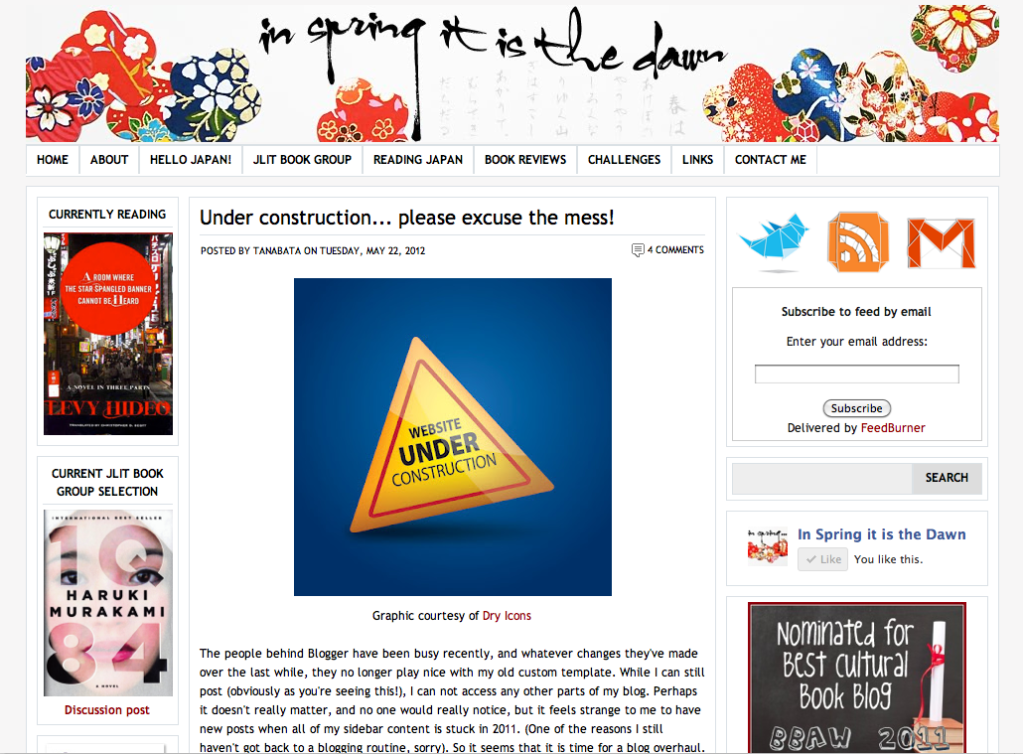 Old template 2010-2012
The blog header has been slightly revamped. I've also created some new pages, updated a lot of lists, moved things around, and just generally tried to make it simpler, cleaner, and hopefully easier to navigate. And most importantly, there shouldn't be any more compatibility issues with Blogger's new additions and back-end coding changes. Please do let me know though if you find something that doesn't work, or looks funny. There are still a few things that I'd like to work on, and a few tweaks to be made, but for now it's time to get back to business!
New template June 2012
If you
follow me on Twitter
, or the
In Spring it is the Dawn Facebook page
, you'll know that I was in Anaheim, CA this past weekend for the American Library Association Annual Conference (ALA), and I have to say that it was really motivating. I've really missed blogging these past few months as we packed up and moved across the ocean, and I can't wait to get back to chatting books with you, starting with the exciting new books I picked up at the Conference.
Thanks again to everyone for their patience, and support, more recently, and over the years. It's so good to be back!
---