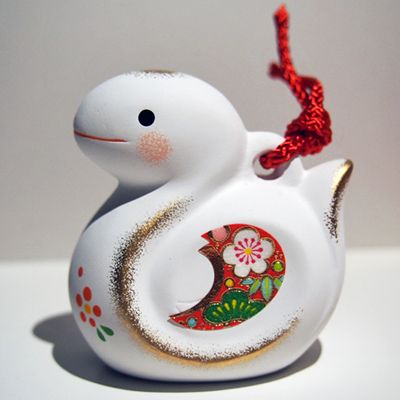 Happy Lunar New Year to everyone who celebrated this past weekend.
As for what I've been reading in this Year of the Snake so far* ... not a whole lot, but what I have read has been great.
In January I read two books by contemporary Japanese authors:
The Diving Pool by Yoko Ogawa
, and
The Briefcase by Hiromi Kawakami
for Tony's
January in Japan
event, and Bellezza's
Japanese Literature Challenge
. I thoroughly enjoyed both of these books and am looking forward to reading more by both of these authors. Click on the links to read my reviews.
At the beginning of this month I started reading
Wolf Hall
by Hillary Mantel for a book group. However, I just couldn't get into it so I decided to put it back on the shelf and try again some other time. I'm not quite over my year-long reading slump yet, so for the most part I'm letting my mood choose my reads. I'm giving myself permission to not stress about reading. So instead I picked up
Hikikomori and the Rental Sister
by Jeff Backhaus, and it captured me right from the start. It is a beautiful story about overcoming grief that I hope to tell you more about soon.
After I finished
Hikikomori and the Rental Sister
, it took me a few days to finally settle on another book. I kept picking up books but putting them back down again. Not helped by the fact that I kept thinking about Thomas and Megumi, the characters from
Hikikomori and the Rental Sister
. Well, apparently sometimes you just need a fun 'stranded-on-a-remote-island' love story, because I ended up devouring
On the Island
by Tracey Garvis Graves this weekend. Hey, it is almost Valentine's Day after all.
Now I'm back to indecision about what to read next.
The Briefcase
was one of five titles short-listed for the
Man Asian Literary Prize
. I'd like to read some of the other titles, and the winner will be announced in mid-March, so they are high on my list. I have several books that I started last year but never finished that I would like to return to at some point. Or one of my many unread JLit books. Or... or... always too many choices!
What great book(s) have you read so far this year?
Speaking of Japanese literature, thank you to everyone for their kind comments about my blogiversary! I wish I could give all of you the Japanese books you mentioned, but alas, there can only be one this time. The lucky winner of one Japanese literature book of their choice is
Kristen M. (We Be Reading)
, who will be getting a copy of
Revenge
by Yoko Ogawa. That's a book I'm very much looking forward to reading as well. I hope you enjoy it, Kristen!
*Japan adopted the Gregorian calendar over a hundred years ago, so unlike many of its Asian neighbours who celebrate the lunar New Year, in Japan the Year of the Snake began on January the first.
The small print: Links in this post to Amazon contain my Associates ID. Purchases made via these links earn me a very small commission. For more information please visit my About Page.
---